Amish Barn Raising Secrets...
"How to Build The Perfect Amish Barn...
Even If You've Never Grown a Beard, or Worn a Straw Hat..."
Learn The TRUTH about how To Build The Perfect Traditional Barn You Need, and avoid Costly Mistakes...
In this Interview with John, who has been where you are, built his barn, and is now helping others do the same...
Get Your Barn Plans Here
Making your barn plans
and planning a location
A little barn planning can go a long way.
So you've bought that place in the country that you always wanted. Now you need to build that post and beam horse barn that has been living in your imagination for all this time. Its time to make that dream a reality. Next to your home your barn will most likely be the biggest investment you make on your land.
Location, Location, Location!
Take a walk in the rain! Watch how the water moves naturally on your property. You want a spot that is high and dry, but also fairly level. This will save you time and money later. It is better to build where you have good drainage than to bring in a lot of fill. Building up a low spot can be an expensive endeavor, and can take time, and money away from your actual timber frame barn construction.
Take time to walk around your property and visualize where your barn fits best. Ideally you want to plan to be able to see your barn from the house. After all you are building an esthetically pleasing post and beam barn kit so you want to make the most or its stunning beauty. Be sure to locate your barn in an area that doesn't block the best views. Plan to take advantage of your post and beam barns blocking abilities to hide any eye sores your land may have. Maybe your neighbor has an old tractor mini junk yard you want to get out of your view. This would be the perfect opportunity to screen it out of your field of view.
Plan for your barn to be within site of your house. You want to be able to keep an eye out for varmints. Bandits, of the four legged kind abound in the country, some are after your feed, others are after your chickens, and still others are just looking for a dry place to lay down. There are also times when you want to watch out for two legged bandits. If your barn is within view of the house it will be a less likely target for thieves.
It would be a very good plan to locate your new post and be beam barn within easy access from a driveway. You want to be able to drive right up to it or even drive through it. Convenience is important, unloading feed, hay, and bedding is much easier if you can drive right up to your barn. It is also handy when loading or unloading horses, alpacas, goats, sheep and other livestock. Speaking of that, the ideal plan is to have a U or circle drive that goes right up to and or through your barn. Think about those long stock trailers, they need enough space to turn and maneuver. If you have one, you might measure your pickup and stock trailer, or a neighbors if you don't. Then plan your drive up to and out of your barn to have enough room to drive straight in or straight out of your barn.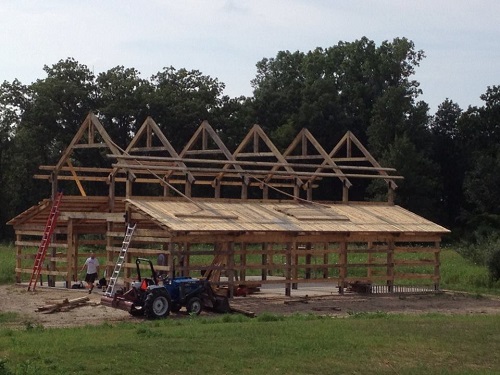 Green acres is the place to be!
Plan your barn to be close to your current or planned pasture land. The last thing you want is a long walk from your pasture to your new post and beam barn. The best plan is to have your barn connected to your pasture. Then you can have doors leading out of your stalls to a paddock or pasture. Your horses and livestock will be happier and healthier if they have room to play, a safe place out of the weather, and easy access to both.
Make room in your barn plans for plumbing. You may think water is not necessary in a barn. I mean its not a big deal to carry a couple buckets of water out to the barn to water the animals, right? Think again!
It is a real pain in the neck to carry buckets upon buckets of water to your barn. Especially in the winter. Believe me I know. The only broken bone I have ever had was from slipping on ice while carrying buckets of water to our animals on the dairy farm I grew up on. I slipped and fell with my full weight on my arm which landed on the edge of the bucket. It wasn't an experience I would like to repeat.
Besides what if you plan to have a wash bay in your barn? Believe me you will want water plumbed out to your barn so plan for it. Make sure your barn is close enough to your well that it doesn't become to expensive to run the piping. A frost free hydrant in your barn is enough to start with. You can add an automatic watering system and plumb in a wash bay when you are ready.
As with water you will also need adequate barn lighting and electricity. Be sure your barn is close enough to a utility pole or another building with power so that it is easy to run electricity to it. You don't want to be stumbling around in the dark when you are investigating a strange noise coming from your barn. Plan now for adequate barn lighting.
Think about the location of your barn in relation to typical conditions in your area. If you live in a cold climate than you might want a nice southern exposure to take advantage of the sun for heat. You may also consider the prevailing winds in your area and position your barn to be protected from them. If you live in a warmer climate you may want to place your barn in the shadow of a hill or some big trees.
What will the neighbors think?
Ok , maybe you are like Montgomery Gentry and you don't really care what your neighbor thinks about your "big red barn", but here in the real world we have to live with our neighbors and peace is worth a lot. Take time to talk to your neighbors, tell them about your barn plans and get their input.
You don't necessarily have to listen to them but like they say an ounce of prevention is like a pound of cure. Discover their opinions and try to plan a barn location that makes everyone happy.
Ok, so you have the perfect spot all picked out. Don't worry if it doesn't fit all the criteria above. Remember if the perfect spot isn't quite perfect that's ok. It shouldn't stop you from moving forward. Are you ready to get started? Great!
Fill out the contact form below, we are ready to help you build that barn you have been dreaming of.